Hardware DSP Logger MX 300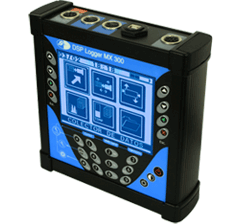 DSP LOGGER MX 300 brings a new level of affordability and easiness to vibration analysis.
It is now possible to completely implement a vibration analysis program, on time and on budget!
Key Features:
. Two channel input
. Route / off route collection with previous spectrum display
. Built-in balancing and phase analysis software
. Advanced bearing analysis with Envelope Spectrum
. Bearing frequency displayed within the analyzer
. Spectrum band alarms
. 16 Mega Bits of memory
. Operating system updates
. Digital Signals Processors (DSP) performing at 48 Mega Hertz
. Frequency range from 0.2 Hertz to 20 Kilo Hertz.
. Multiple inputs such as 4-20 milliamp, 0-10 volt. and Temperature (mvolts)
. 4,000 Resolution lines
. Made in USA
SEMAPI has been a leader in the condition monitoring industry for more than 25 years providing world class support and service to our North American customers.
The DSP LOGGER MX300 has 5 different programs for predictive maintenance, they are:
Hardware Dimentions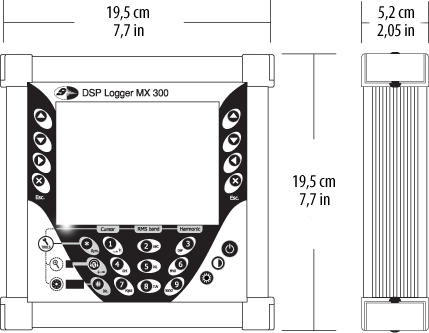 The software DSP Data Management allows optimizing, organizing and storing the measures made with the DSP Logger MX 300.
This software delivers a wide variety of measures that can be configured previously, giving a large and organized structure.
The software has a bunch of tools which allows to produce an accurate diagnostic about eventual failures in the equipment and its work condition.
Specifications
Inputs
16 bits
- Two accelerometers (50 100 500mv/g, selected by software)
- Clamp meters (10 100 1000 a, software selected)
- Two displacement (0 10 V or 10 V p-p)
- Auxiliary measure (1 VRMS, AC connection)
- Optical sensor for RPM measures and external trigger.
24 bits
- Infrared sensor.
- Passive temperature sensors (pt 100) and active (0-100°c)
- Process signals (4 - 20 mA) units designation and offset control.
- DC Voltage (0 10V) units designation and offset control..
- Displacements (0 10V) units designation and offset control..
- Auxiliary DC Voltage (0-2.5V) units designation and offset control
Output
Stereo earphone. Power 100 mW at 8 Ohms.
Features
DSP Processor ADSP 2188 , 48 MHz.
Acceleration, Velocity, clamp meter and auxiliary input spectrums
Envelope Spectrum (2 filters which can be configured)
Waveform
Overall Acceleration and Velocity: 0-Peak & RMS.
Overall Displacement Peak to Peak
Natural frequency
Phase between two channels without trigger
One and two plane automatic dynamic balance.
Frequency Response: 0.2Hz 20,000Hz
Ranges: 25Hz, 100Hz, 200Hz, 500Hz 1,000Hz, 2,000Hz, 5,000Hz, 10,000Hz,15,000Hz, 20,000Hz.
Side bands in spectra: Harmonics
Zoom in spectra
Bearing fault frequencies in envelope spectra
RMS for bands x4 or x10
Windows hanning, flattop and rectangular
Graphic spectrum: linear and logarithmic
Cursor single, harmonic, harmonic+ single, peak
Trigger: external, input channel triggering
Sealing IP 65.
USB Port for PC connection
16 Mb of FLASH memory allow storing 16,000 spectra in routes
320 x 240 monochromatic pixels LCD with LED backlight. Suitable to be used with direct solar light
Operating Temperature -10 deg C to + 60 deg C
Housing material : aluminum extrusion
Battery: NiMH 7.2 V, 3,500 mAhr rechargeable. Operating time : 8 hours
Size: 7.7 in x 7.7 in x 2.05 in (195mm*195mm*52mm)
Weight: 3.97 lb (1.80Kg.)