Vibration Analyzer and Off-road Measurements Module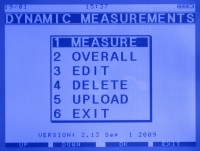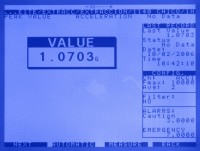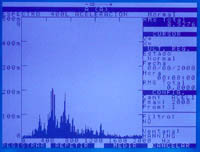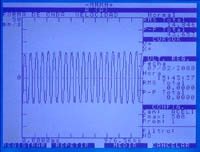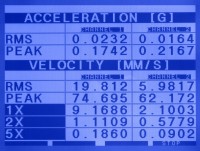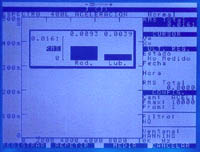 The vibration analyzer and off-road measurement module allows all types of spectral and scalar measurements, setting at the field the parameters needed for the application.
Its versatility and ease of use make it a complete vibration analyzer, current and AC signals.
All measuremets configured in this module can be stored in the equipment memory, be edited or be transferred to a PC for more complete analysis.

PARAMETERS:

Measuring option allows the operator or analyst select the various parameters available to measure, given wich type of analysis is required.

Measurerement:

Spectrum 400, 2000 or 4000 lines.

Waveform.

RMS value.

0-Peak value.

Peak-Peak value.

Variables: Acceleration / Velocity / Displacement / Surround / AC / AC signal amplitudes /

Maximum Frequency:
50Hz /100Hz /200Hz /500Hz /1Khz /2Khz /5Khz /10Khz /20Khz

Averages: 1 /2 /5 / 10 /20 /50

Filters: NO / High pass / 1250-2500Hz / 2500-5000Hz /
5000Hz-10000Hz / 10000Hz-15000Hz.

FFT Window : Hanning/ Rectangular/ Flattop.

Types of sensors: 10,40,50,100,500,700 mv/g

Amperometric clamp types: 1,10,100 mv/A

MEASUREMENT DATA:

Each measurement can be stored in the analyzer memory before being sent to a PC and generate results reports or putting together a database of measurements of one or more equipments.To do this, the module has a dictionary of types of equipment and items, thus facilitating the writing and also allows the option of entering letters via keyboard.

EDITION OF MEASUREMENTS:

All measurements recorded with the analyzer may be edited before being transferred to the PC. To do this, a window showing the measurements taken, with date, time, equipment and type of measurement will be displayed.

ADDITIONAL TOOLS OF ANALYSIS:

OVERALL:
The overall measurement function allows to operate the analyzer module measuring simultaneously on two channels in each velocity and acceleration, showing values 0-Peak and RMS.
You can also set the maximum frequency for each channel and the RPM of the equipment, with this data you can automatically tune the unbalance component, misalignment and mechanical shock generated by the equipment.
This tool shows the exact vibrational levels of these components in each channel, allowing a full equipment condition on line.

MEASURING NATURAL FREQUENCY:

The analyzer module can also calculate the natural frequency of the equipment or structure so simple and fast. With the ability to set the shutter speed of the spectral measurement through a stroke and also adjust the trigger threshold and the slope of the waveform to activate.
Automatically the spectrum of the resonant component is displayed.
ENERGY OF VIBRATION:

Shows harmonics values of the spectra when you configure the RPM, helping in the detection of harmonic values.
Displays fault energy values of rolling and lubrication into acceleration spectra.

SPECTRUM TOOLS:

All spectral measurements have different tools for analysis and visualization of th spectra adquired.
Main:

Amplitud zoom, frequency zoom.

Maximum and movil peak cursor. Shows frequency and amplitude points.

Harmonics of the point selected by cursor.

Spectrum measure with active zoom window.

DATA TRANSFER:

All measures stored at the analyzer memory can be transferred to DSP Data Management. With the adequate application module, you would save, sort, analyze and print measures and reports
The software DSP Data Management allows optimizing, organizing and storing the measures made with the DSP Logger MX 300.
This software delivers a wide variety of measures that can be configured previously, giving a large and organized structure.
The software has a bunch of tools which allows to produce an accurate diagnostic about eventual failures in the equipment and its work condition.
Specifications
Inputs
16 bits
- Two accelerometers (50 100 500mv/g, selected by software)
- Clamp meters (10 100 1000 a, software selected)
- Two displacement (0 10 V or 10 V p-p)
- Auxiliary measure (1 VRMS, AC connection)
- Optical sensor for RPM measures and external trigger.
24 bits
- Infrared sensor.
- Passive temperature sensors (pt 100) and active (0-100°c)
- Process signals (4 - 20 mA) units designation and offset control.
- DC Voltage (0 10V) units designation and offset control..
- Displacements (0 10V) units designation and offset control..
- Auxiliary DC Voltage (0-2.5V) units designation and offset control
Output
Stereo earphone. Power 100 mW at 8 Ohms.
Features
DSP Processor ADSP 2188 , 48 MHz.
Acceleration, Velocity, clamp meter and auxiliary input spectrums
Envelope Spectrum (2 filters which can be configured)
Waveform
Overall Acceleration and Velocity: 0-Peak & RMS.
Overall Displacement Peak to Peak
Natural frequency
Phase between two channels without trigger
One and two plane automatic dynamic balance.
Frequency Response: 0.2Hz 20,000Hz
Ranges: 25Hz, 100Hz, 200Hz, 500Hz 1,000Hz, 2,000Hz, 5,000Hz, 10,000Hz,15,000Hz, 20,000Hz.
Side bands in spectra: Harmonics
Zoom in spectra
Bearing fault frequencies in envelope spectra
RMS for bands x4 or x10
Windows hanning, flattop and rectangular
Graphic spectrum: linear and logarithmic
Cursor single, harmonic, harmonic+ single, peak
Trigger: external, input channel triggering
Sealing IP 65.
USB Port for PC connection
16 Mb of FLASH memory allow storing 16,000 spectra in routes
320 x 240 monochromatic pixels LCD with LED backlight. Suitable to be used with direct solar light
Operating Temperature -10 deg C to + 60 deg C
Housing material : aluminum extrusion
Battery: NiMH 7.2 V, 3,500 mAhr rechargeable. Operating time : 8 hours
Size: 7.7 in x 7.7 in x 2.05 in (195mm*195mm*52mm)
Weight: 3.97 lb (1.80Kg.)